For those of you who remember, my resolution for 2017 was to stop buying Bs/Ks and to add a H clutch to my collection. Let me share my H clutch journey.
My first Jige - Noir swift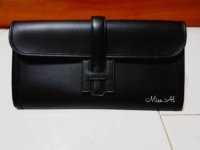 I loved the Jige so much. Soon after, I got my second Jige. I just had to bring her home. Here she is... little Ms Sunshine.
My second Jige - Jaune Poussin /Craie Doblis. Isn't she special.
After two Jiges, I was ready to get a Kelly Pochette. It was not easy to get hold of one. I was offered Glycine swift KP but I passed on it as I didn't like the color with swift leather.
As I was about to give up, I was offered little Ms Bubblegum.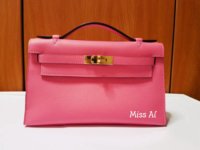 My first KP - Rose Azalea swift in ghw. I am overjoyed. Thanks for letting me share.
Group shot of my H clutch family