Hello, I don't post very often and usually it's been to get something authenticated or questions. I really enjoy the purse forum, all the people on here are very very helpful so I thought I would attempt to help in a small way. I noticed that a few people (like myself) had some interest and questions about the Gucci Signature Camera bag.
http://www.saksfifthavenue.com/main...me=Gucci&N=4294912411+306622829&bmUID=lDAsQQ9
http://www.neimanmarcus.com/Gucci-G...ements%3D&eItemId=prod196590058&cmCat=product
Hopefully this helps anyone who is curious about the bag. I'm not a expert and this is my first time posting anything like this so please excuse my rambling or errors.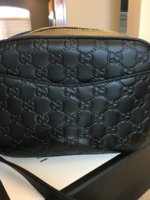 I purchased the bag in black, I already own a red disco and originally planned of buying a black one but the outside pocket made me very curious about this one.
1. The leather is stiff around the top, sides and bottom. Compared to my soho, I do think it will hold it's shape better because of this. The embossed leather however is quite soft, not as soft as the soho but definitely will soften more over time. I was told by the S.A. that it is made out of lamb leather.
2. The embossing is deep, very well done and beautiful but not over the top. Where as the soho disco is that lovely pebbled leather, this is a very smooth leather. I think it won't be as carefree as the soho disco (I have owned the red one for over a year and it still looks almost new), it will definitely show scratches but I think it may give the bag a bit more character.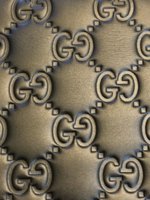 3. The inside is this very soft microfiber lining, it has one pocket with the Gucci tag, the soho disco has two inside pockets. I am not sure if it would be difficult to clean, I've never had an issue with my soho disco's canvas lining, sorry I'm no help there.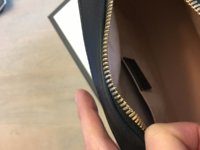 4. The front pocket is a bit shallow, it does fit a iPhone 6s perfectly fine. I think the iPhone plus versions would fit as well but stick out of the top a bit more. I used my empty case because I took the photos with my phone. The pocket is magnetized and really strong. I think you would need to flip the bag upside down and shake it really hard for something to call out of that pocket.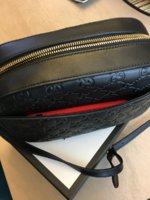 5. Comparison with the Soho Disco and strap length. They are exactly the same size as far a height, width and length, the strap is where they differ a bit. Both have 5 holes, but the Signature camera bag's strap is longer. I wear the Soho Disco in the 3rd hole, where as the signature I had to put on the 2nd hole. I am 5'4" and 125lbs, they both hit me right at my hip at that strap length.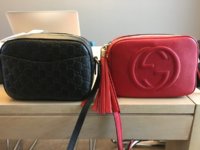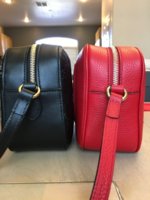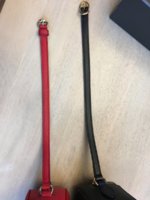 I hope this helped and thanks for reading it. Please excuse any errors, I have never posted anything like this before.