Hello All,
Im writing my first post here with a sad heart. Hoping you all could give me some advice.
I recently purchased the
Gucci Padlock studded GG Supreme
but only after one day I notice some scratches. I'm in a dilemma about whether or not to just accept the scratches or to go back to the store.
When I purchased the bag, the SA brought out a new one from the back for me, but because there was so much going on at that time I did not personally inspect it myself.
When I got home I unboxed the bag, but did not notice any scratches. I cannot say I looked closely either. A while later I did notice one scratch on the leather. So it is possible this scratch may have been created by me (??) but it also may not have.
Here is a picture I had quickly taken when I first unboxed the bag, but it's not clear to me if initially there is any scratch or not. (the scratched area is somewhat covered by the padlock)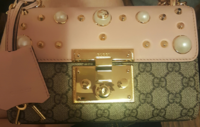 Now, the next morning after I bought the bag I brought it out once. Later when I got home I notice a scratch on the pearl. I was really shocked because I don't think I could have done anything to case this scratch (Really I just went to church), but again there is a possibility it could have been caused by me. I really cannot remember if when I first unboxed it there was this scratch on the pearl or not.
*I will update with pictures of the 2 scratches shortly
What do you guys think? Is it not a big deal and should I just accept the scratches, or should I return to the store.
Thank you all so much.