So I bought the
Gucci
gg supreme messenger bag on Thursday in Gucci Westfield Sydney. I didn't inspect the bag in store as I bought several items and inspecting the bag escaped my mind. I was busy with work and only got to inspect the bag recently at home (All my other items are fine with no scratches or defects at all). I'm not sure if I'm expecting too much from Gucci, or if I am just being nit-picky. Please let me know if I'm just being Nit Picky or these are actual defects on my bag.
issue 1:
The leather edge is cracking where the thread has been inserted (In red circle) and normal at the bottom for comparison.
Issue 2:
There is some sort of silver markings on the canvas that doesn't rub off, there are 5-7 marks along the zippered canvis opening on the bag.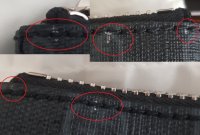 Issue 3:
The leather edge binding, I believe was bound incorrectly (as shown) and is different in quality to the right example.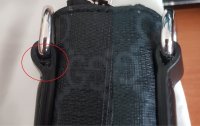 Thank you for your time.