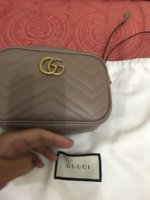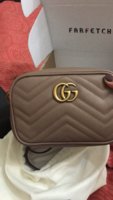 Hi guys, first time to post here on the Gucci forum.
I bought a gucci marmont mini camera bag in nude through
Farfetch
. It came with just a dustbag, and no box. I normally buy all my other bags (LV, Burberry and Chloe) either in store or online from the brands themselves. But since that color in that size is not available in Australia, I decided to go through Farfetch this time.
Not having bought a Gucci bag before, I'm not sure how the dustbag should look like. All I can see from google is it should be in gold letters.
I've had good experiences with Farfetch for Stuart Weitzman shoes - but have never bought a bag from them.
Any thoughts?