Hi everyone,
I have a Gucci belt bag that I got in 2005. I know at that time a website called eLuxury existed and that's actually where you would buy Louis Vuitton before they got their own website. I'm not sure if I bought the Gucci belt bag on that site, or another, and now after a decade has passed I'm questioning its authenticity.
I have not used this in probably seven or 8 years, and I'm just trying to see if I can sell it.
I did post in the "Authenticate my Gucci" section, but for some reason my post has been ignored for several days now (over three) and I even bumped it. Other posters have been replied to, so I don't know why no one has said something about mine.
I know even on the authenticate thread there is a disclaimer saying that no one is a professional or has any license to do authenticating, but just have lots of shopping experience when it comes to a certain brand.
If ANYONE has any opinions, I would greatly appreciate them. I read that Gucci serial numbers can have 10-13 numbers, and mine has 10. Other people's bag's I've seen recently have 6 on top and 6 on the bottom, and also that's what my other Gucci bag has that I bought from Saks more recently.
NOTE: This bag belongs to me, and I took all the pictures. Also, I accidentally ripped the zipper pull off the front pocket when I was being too aggressive with it.
Ok, here goes...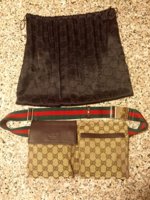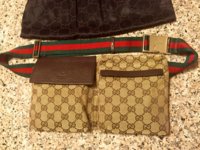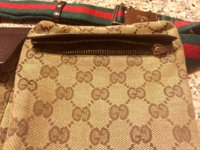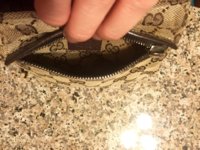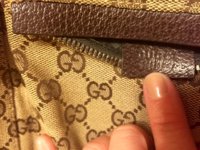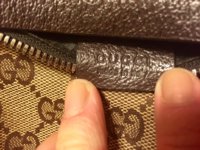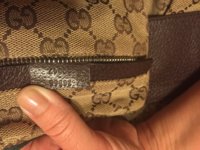 Last edited: