Grand opening, grand closing. I packed this lovely up today to take it outside for its maiden voyage. I put it in my front seat, which is the first time I saw it in full sunlight. And I was instantly disappointed. While the front of the G's looked good, the sides were ... grey? silver? dirty? I'm not sure, but they were not gold like the front. There was gold mixed in, but also splotches and patches of a dark color. Here are some pics in sunlight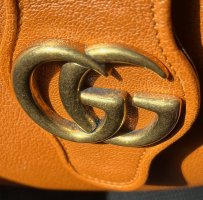 I've already been in touch with customer service via chat, and they've been great so far. They did agree that while the front of the Gs looked fine, the sides did not look normal. I ordered this online and picked up in store, so they can't do an exchange in an online way. I'd have to go back to the store, they would accept my current bag, and then order a new one and then, I presume, I'd have to go back to the store to pick it up. It's an unpleasant 60-90 minute drive each way, so I'd rather not have to go back to the store twice for this. Ugh, lesson learned to inspect every aspect before leaving the store. They showed me the item in box and I quickly looked over the leather, but the hardware was wrapped up, and I didn't unwrap it. Even if I had, in my excitement and with not having the full sunlight, I might have still missed it.
So, I'm going to mail in the return and once they receive it and that's squared away, I'll order a replacement to be shipped to me. And hopefully there will be no issues with that.
Dang, it just occurred to me that I might not have a shipping box to fit this in. Since I picked it up and it came in a tote rather than a box for shipping. The green gift packing box is pretty big. Hmmm ...
Last edited: