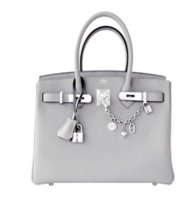 So I am strictly a gold hardware person. I love it in every brand on every color. At least I thought I was strictly a gold person. Then I saw this: (picture above)
My question is this: For my first Birkin, should I stick with what I know I love (gold hw) ? Or should I branch out and get this that caught my eye. I don't want to end up regretting but I love this combo.
Advice, I'm begging you!!!!!!!