I just received my Nano Noe. I kinda knew my Samsung Note 10 plus would stick out. I don't really mind as long as I can secure the bag when I need to.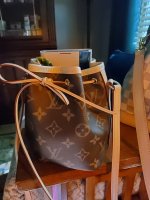 I recently bought the Noe BB in Azur so am posting a picture for comparison sake. Everything fits in the BB easily with plenty of room to spare.
(I'm trying out the 38" Mcraft strap on that one )
Does anyone have the Samsung Note Plus phone and an either Nano Noe or Speedy? Does this phone even fit inside the speedy? Phone height is 6.39"
I wouldn't consider a smaller phone.
What does every think about nano bags and big phones? Can you make it work?