It's been awhile since I posted anything. Mainly due to lack of time to take pics and post them here.
I have gotten a few things and thought I would share!
Those that know me, know I had an addiction to the Legacy Duffles and accessories. That still continues, I still love all 17 of my Duffles, I am just waiting on a few new colors to hit outlet. Saw Robins Egg and Mustard yesterday but I don't really care for the RE and I already have the Sunflower and Lemon.
However, when the new Ocelot stuff hit the outlet, I DID NOT care for it in the pics. I made a lil trip and there it was. It was instant love!
So, as usual, I have gone overboard. Here is a pic of all my Ocelot goodies!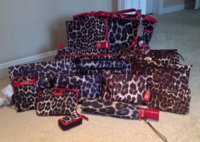 Ocelot N/S Tote in Black
iPad cover
Travel case in black
Clutch in black and brown
Large and small cosmetic case in black
Large and small cosmetic case in brown
Small Wristlet in black and brown
Uni case in black
Key fob in black
Contact lens case in black
Umbrella in black
Missing is the hard iPad cover which is on the iPad I used to take the pic!