Aug 20, 2013
9,338
22,272
I saw this beauty a couple of months ago on Instagram and was mad at LV for only releasing this in Dubai. I didn't even bother asking my CA about it thinking it wasn't possible to obtain in the States. Little did I know I'm able to request other country's exclusive items. Well she's here and I can't be anymore happy.
This item definitely deserved a real reveal in my eyes...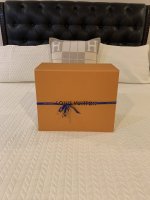 My CA also surprised me with a little something for my daughter, hence the box inside the box...