So as some of you might have came across my previous thread about my newly repaired louis vuitton bag which is the montsouris gm which was repaired by Louis Vuitton, I am updating about the strap keeper of the bag. If you haven't seen my previous thread, here is the link...
https://forum.purseblog.com/threads/my-newly-repaired-louis-vuitton-bag.958253/
So Louis Vuitton wasn't able to replace just the strap keeper ( need to replace the whole leather where it is in but my date code is stamped there so I don't want it to be replaced because they will not re stamp the date code. It really kind of turn me off and so I thought of ways to make it look better I guess...From covering it with silver thread to painting it...
And low and behold...here it is!!!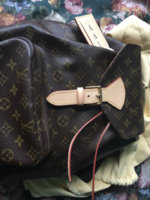 From this
Who wants to know what and how I did it?[emoji38]