here is my current bal selections.
I need some suggestions from you all. Between the yellow flat messenger and mini city, which one would you keep and why?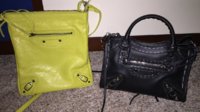 On a daily basis, I carry my city. Sometimes I carry the backpack when going out shopping or doing errands. It is nice to have the selections but having 2 small bags is not very practical for me. Should I keep flat messenger? or should I keep the mini?
Last edited: