Ive always loved TB shoes. Still waiting on some Millers and a canvas colorblock espadrille to arrive! But, Ive never paid attention to TB bags. Until now. All my bags finally arrived and are together now. TB packaging is excellent!
Ive never had a fun, colorful bag before and this definitely wont be the last. I was intrigued by the Mercer Degrade Sunbeam but I wasnt sure if I would use such a colorful bag. Received it today and it was instant love.
Thanks for letting me share! I finally know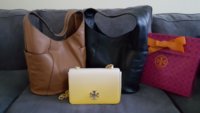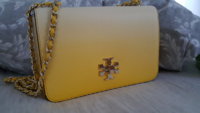 what all the fuss over Tory Burch is about now.