Hey everyone! I just wanted to share my experience shopping at a Chanel Boutique for the very first time, as it was the exact opposite of what I was expecting. I have been a very avid fan of the House of Chanel since I was very young and love browsing purseforum to see all of your beautiful Chanel pieces and read everyone's advice and knowledge. Last week, I was very fortunate to have my family take me on a surprise trip to the nearest Chanel Boutique, which is about two and half hours from where they live, to pick out my first bag during my break home from college! To be honest, I'd always been intimidated/nervous about going into a Chanel for the first time and falling out of love because of all of the countless horror stories I've
heard
of clients receiving poor treatment or racism from rude SAs.
My first time at Chanel could not prove me more wrong! As soon as we walked in we were immediately greeted by the the friendly security staff who directed me to the most amazing SA. It's important to note we were all dressed
extremely
causally. I was wearing jeans and sneakers, (which had actually developed a huge hole in the fabric from when I snagged them that very morning in the car--not very Chanel haha!), but it didn't make a difference as to how we were treated. The only kind of "fancy" thing I was wearing was a winter coat with my college's insignia on it that tends to get comments from others who think I may be wealthy because it is considered very "prestigious" (which I am definitely not--just fortunate to have supportive, self-sacrificial immigrant parents!) but I really don't think anyone noticed at all.
As we made our way to the counter, we were immediately all offered Evian and our SA began bringing over some items she thought I would like. It was my first time shopping for a bag as a guy, so I was a bit afraid the SAs would be weird about it, but she made me feel completely conformable and at home. While shopping, we talked about the history of the House, my interest in Chanel, she asked to see a picture of the vintage Chanel jacket I got for my birthday (my first official Chanel piece!), and we discussed what it was like to go to my college and what I was studying etc.
While shopping, she was very patient, and let me FaceTime my best friend to help me make a choice (didn't realize there is typically a no-filming policy until a few days later whoops!) and also brought out a book with what they would be receiving for Act II to look at, offering to put anything on reserve for me if I preferred.
What I appreciated the most was her actively interacting w/ my mom whose first language is not English, complimenting her non-designer purse I got her abroad and telling her how proud she must be of me (I'm the proud one to have her as a mom!). There have been many times when we have gone shopping together and have faced racism for speaking in Spanish in public at regular stores, so it really meant a lot to me that she also made her also feel welcome, as my mom is the most important person to me

.
As we narrowed down our selection to a couple before finding the "one," we celebrated with some champagne, and I ended up selecting a Cruise 2019 red caviar clutch with chain that she thought I might like (which I fell in love with!) rather than the black mini flapbag or woc that I thought I would choose. I love that you can wear it small-medium crossbody or as a fanny pack, but still fit an iphone X and other items comfortably

! The other SAs were also very friendly as we toured the store before checking out, asking me which bag I had chosen and congratulating me.
Finally, as we checked out my SA stuffed my bag with a bunch of camellias and also went to the back and brought out a couple of absolutely gorgeous Karl Lagerfeld-drawn cards of himself and Coco Chanel that SAs send to their clients and put them in my bag (I was over the moon!) and officially welcomed me to the ~ Chanel family~ as she added me to their client database. She also gave me a card with her cell and email and brought out some extra Evian bottles to give to my family for the road.
To be honest, I was 85% expecting to be disappointed with my first Chanel experience, but it was one of the most fun and memorable experiences I have ever had, and even though we were just regular, first-time luxury shoppers, everyone really treated us kindly. Chanel and my SA have now made a young, but loyal new customer out of me for years to come; I really think I would have lost all interest if I had experienced unkind or snobby SAs, but my experience really made my bag all the more special, and I look forward to ordering again from my SA even after I go back to school. I know that shopping at Chanel can really be hit-and-miss, so I genuinely hope that everyone will have the same positive experience that I did because I think that's what shopping at Chanel is supposed to be.
Karyn at Chanel in Chicago: you're a rockstar! Thank you for the awesome experience! I highly recommend her for anyone in the area!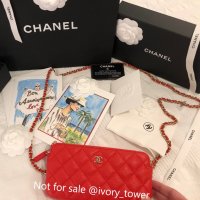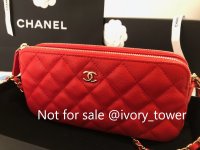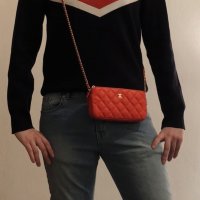 Last edited: