I know tons of threads like these have been made before, but I'm just so lost!! My birthday is coming up soon and I'd love to celebrate it with my first VCA piece because this has been a really special year for me, and I've narrowed it down to two different pieces:
The chalcedony pendant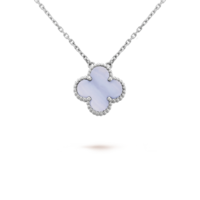 or
The sweet six-motif pink gold bracelet
They're both so different and have their own charm. I just adore the gorgeous coloring and striations of the chalcedony, but the six motif is just so dainty and delicate and because it's all gold I could wear it every day. They're the same price too which makes it even harder!! Another worry is that after doing some research on the forum, chalcedony might be getting phased out? So maybe I should just get it now??
Ahh this was such a long post, but it's such an expensive purchase so I'd love if the experts (y'all) weighed in. Does anyone have pics/mod shots of one of these pieces? What they think of it after using it? Or even just which do y'all think would make for the best starter piece? Anything would help me rn haha! Thanks!!