Just a gal who loves purses, clocks and cats
O.G.
I am so excited to be able to share the newest member of my purse family: the Artois PM. I wanted to include photos and information because I know details on Goyard can be rather elusive.
The size is the PM. I find this is the perfect size to fit my daily items in (picture bellow) I am 5'2 and this bag is the perfect size for an everyday bag. The handle drop however I feel could be abit longer but I am a very tiny build so it works well for me.
The process to get the bag was easy. I went to Goyard website and filled out the distant sales form , including that I was looking for a tote type bag. The next business day I got a reply back with a list of all bags that fit what I was looking for along with descriptions , what they were best for, measurement, personalization info, prices and color choices. All in all the process was very easy, my bag came from a Manhattan Botique and I got it the day after it was shipped out but that could be because how close I am.
I was deciding between this and the Saint Louis however I went with the Artois because of the thick canvas , longer handle drop , re enforced corners and the zipper. All in all I am very happy and already thinking about getting a second in MM for travel because I definitley think MM size is the better to go with if wanting to use it for that, not that there is much traveling going on these days...
The Artois PM came up to just over 1800 dollars , including tax , I had to pay 25 for shipping and there are no returns on distant sales.
Attached are photos including how bag arrived, modeling photos, and all the stuff I fit in there. Also there is still room left for an umbrella as well if I needed to pack one. I will say the bag is abit stiff along with the handles but hopefully it will soften up with use.
So here it is my new Artois PM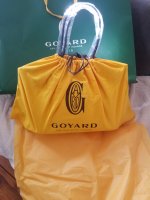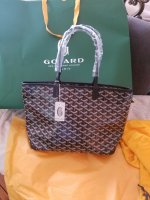 Last edited: