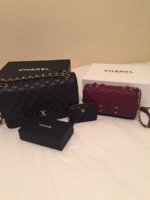 Just want to share the start of my Chanel collection with the lovely Chanel fans in this forum.
I've been an admirer of Chanel since high school, but practicality stopped me back then from pursuing my dream bag, the Chanel classic flap. Looking back, wish I had purchased it back then when the hardware was still made of gold and prices were relatively cheaper than now.
No matter how much I indulge myself in more affordable alternatives (Burberry, Kate spade etc), I cannot get Chanel off my mind.. So I decided that for my 30th year, I was going to make my dreams come true by purchasing first Chanel on my first European trip.
I've wanted the Classic flap in black and GHW, just undecided between caviar or lambskin. On my first stop in London, I made my way to The Bond Street store, and purchased my jumbo. It was love at first sight! I've been using her for a few weeks now since I got back and I just keep falling in love more and more.
Second purse is courtesy of my lovely BF, who bought this Burgandy caviar flap from the cruise'16 collection when I dragged him to the flagship store in Rue Cambon in Paris, our next stop. I was merely looking for a wallet or card case to take as souvenir from this memorable store when my lovely SA started showing me the smaller bags in their current collection. My BF chimed in that I can take my pick and he'll buy it for me for this milestone birthday. I was ecstatic but fairly cautious not to have him spend so much money as he was also funding his mom's home renovation (sweetest guy!). I was testing the waters on the WOCs. I've always thought I wanted one. But when I got to them, they really don't hold as much and for the price, I didn't think it was worth it. My SA showed me this gorgeous caviar flap in burgundy and GHW and I was hooked. I showed both the WOC and the small flap bag to my BF to ask him which one I should take, indirectly asking his permission price-wise. He said he doesn't mind the price but his only condition was that I have to love what I'm getting.. Problem solved, we went home with the burgundy flap.
The thirds piece, I purchased through the Chanel duty free store in Heathrow T5 on my layover from Rome to Los Angeles. I wanted a Chanel SLG and took advantage of the price being cheaper there than if I buy it stateside. I was looking for a caviar version of what I bought. But I figured if I buy the lambskin now, I can see how it holds up over time, in case I plan to by a Chanel lambskin bag in the future.
Sorry for the long post. [emoji4] if you read through the entirety of it, thank you and I hope you like the photos! Cheers!