Help me choose my first (and possibly only) Chanel bag! I'm shopping pre-loved. My ideal bag would be a NEW black caviar square/rectangular mini with gold hardware... but I believe they only make them in lambskin currently. So I started to look for something pre-loved in black caviar with gold hardware but mainly wanted a good deal. These are my top contenders.
2005 to 2006 year (shorter flap) black caviar mini with gold hardware. The little turn knob on the gold lock looks a little bit faded. Otherwise described as very good condition. $2900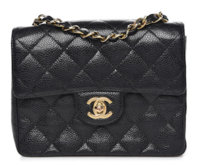 2008 to 2009 year black caviar medium classic flap with silver hardware. It has a black interior flap rather than the burgundy flap in current versions. Gently used condition. $3500
The mini is closer to what I originally wanted but I prefer the longer flap on the new minis, and it doesn't seem like an awesome deal. The medium classic flap seems like a better deal and more valuable - not sure if the black interior flap is of concern. Thank you!