Today my last items from the Tahitienne Collection arrived. My Boyfriend went on a 5 hours ride to bring her to me:
Also my stole came with UPS:
Not the best picture, I know.
My boyfriend doesn't like the stole, he prefers the brighter color on the silk shawls. What do you think?
Yes, this collection stole my heart and I went a little crazy: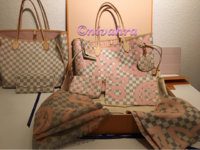 Maybe a little too much Azur...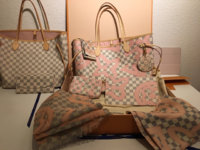 And I have to say that I won't wear more than 2 pieces of this collection in the same time. That would be too much! But I love everything about the Azur and the pink color. The shoes are amazing, too but I can't justify this price for shoes [emoji5]
I hope that I will like this collection for the next years...
Now I just have one bag on my this year wishlist left: the Pochette Metis in Rose Poudre (of course pink....but I will try the black one, too).
Believe me: I really tried to get other colors than pink! I don't know where this love came from, I told my mother it was her fault, she dressed me a lot in blue when I was a child [emoji6]