Hi peeps!
I purchased my first Chanel item in August 2019 last year in Macau's Chanel store in Four Seasons Hotel.
The item I purchased was the long wallet in black caviar. The interior and the exterior looks like this one
https://www.chanel.com/au/fashion/p/AP0241Y01480C3906/classic-long-flap-wallet-lambskin/
However, someone just posted on my unboxing YouTube video saying it's a fake cz it doesn't have a back pocket!
As this is my first piece, I am not sure if the style of the wallet will change yearly??? I have attached the photos and the reciept and the store I purchased.
Although I do remember that the older unboxing videos of Chanel coin purse didn't have a back pocket either but the current official website ones does. So maybe it does change with time????
Would appreciate if someone can give me some insights as it's bugging me to death and I couldn't find the answer online! Thank you!!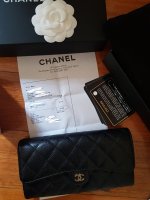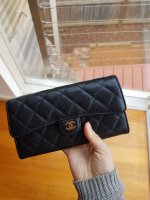 Last edited: