Hello I am writing this review hoping that it can help someone here
First of all, before I came up with the idea of doing the surgery, I was spending a lot of time doing my make up, so I can feel confident meeting and talking to people as a part of my business requirement. Honestly, I was overwhelming with all my tight schedule.
As I came across posting from different individuals' surgery results, I'm impressed and thought it would help me save my time and permanently have confidence with my look. I tried to do numeral research on the internet and through Facebook and I decided to go ahead and do the facial surgery.
When I came through DA Website, its seem reliable and they are doing a great job, so I got in contact with the online consultant and I went from there.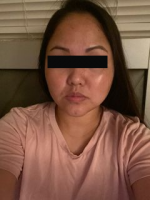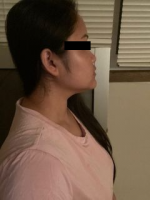 [Photo: before without make up!]
Trip to Korean was rough and time consuming because I had to quarantined myself 14 days at Korea Government facility without getting outside my room. However, I made it out there save and healthy. In meantime, I was excited and nervous at the same time to have my surgeries.
First I met with all 3 doctors (1 for Facial Contouring, 1 for Nose and 1 for Eye + Forehead reduction) for face to face consultation and finalized the surgeries that I was recommended during the online consultation.
The day of surgery, I felt excited, nervous and also scared too, because the surgery would take up to 5-7 hours straight. I did facial contouring, forehead lift and reduction, nose and eyes at the same time! But I went ahead and did it anyway.
Day one after the surgery, it was catastrophe, I didn't expect swelling and pain that much, I was in regret and keep repeating that no more surgery. However, I was able to survived through the pain and swelling. Pain lasted for a day but large swelling prolonged until the end of 2nd week.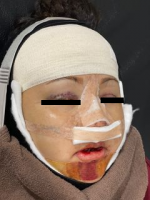 [Photo: right after surgery]
The treatment was awesome start from the first day, with lightening care and etc. Doctor prescribed me with antibiotics and pain killers for a week, which help me cope with the pain and swelling a lot.
One week later, the bandage and stitches were remove, I felt much better and feel good with the results.
Doctors, nurses and especially the interpreter well care of me in my recovery period, they all doing great job.
Big thanks to all of you for loving care and great job for the procedures.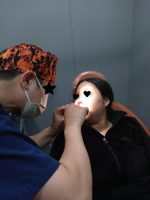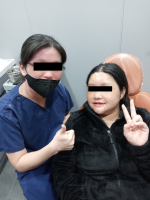 [Photo: Doctors seeing me after the surgery 1 week]
It's been 2 weeks after the surgery and now I'm back at home! I can already see the differences. But swelling still remains. My husband already noticed me taking selfies more than before the surgery. All I got to say is that I feel fully satisfy with the surgery and feel that is was worth it going through 14 days of quarantine for such result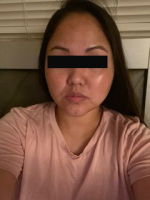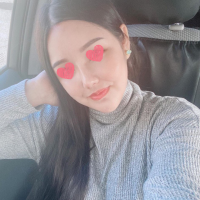 [Photo: After 01/ Before/ After 02]
I will try uploading few more photos after few months