After contemplating facial contouring surgery for a couple years (& many research), I finally decided to do my procedures at Nana clinic in Korea. Some may think it was irresponsible of me to travel during a pandemic, but I live by myself & work from home. I took every precaution when it comes to covid & even did quarantine in both Korea & the US. The US was not mandatory, but for the safety of others i recommend quarantining yourself. Quarantine is mandatory in Korea and I quarantined in a government facility at my own expense. I'm very introverted and used to my own company so I truly didn't mind.
Onto my experience with Nana, the English interpreter at Nana was amazing and truly so helpful! Kylie was her name & she made sure everything I did (and didnt) want was properly communicated. As I stated before, I wanted facial contouring surgery for a couple years. At first, I wanted to do zygoma, v-line, and genioplasty. Although, my mind changed over time & I thought it would look extremely unnatural if I did Vline surgery as my jaw was quite small already. I mostly had fat covering up my natural shape. The consultants agreed with me & suggested I do facial liposuction, thread lifting and buccal fat removal in order for my natural V-Line to properly show. Compared to other clinics I consulted with in the past, this was the very first clinic I came across where they didn't seem to push procedures on to me. The impression I got was more of that they were truly listening to my needs. I had my surgery done with the head doctor, Dr. Kim. Again, he wasn't pushy at all and listened to what my goals were and suggested the procedures to help me reach my goal.
I inquired about genioplasty, but since I was concerned about my face appearing to long or my chin too sharp, the Dr said it wasn't necessary and I could achieve an overall balanced look with fat grafting (I was already doing full fat graft for my nasal folds). Since I was already there, I inquired about my eyes as well. My eyes were somewhat large, but every time I looked in the mirror it bothered me that they were uneven. It's something not many people notice on me, but it's the first thing I noticed on myself and it truly bothered me. Dr. Kim recommended non incisional DES as the best procedure for my goal. Every part of the consultation was a great experience. They took their time explaining everything to me & listened to my concerns. They were not pushy at all and just treated me very kindly
Onto surgery...I ended up doing zygoma reduction, facial lipo, thread lifting, buccal fat removal, full face fat graft, & non incisional DES in order to achieve the look I wanted. I was a little nervous, but my focus was on the end goal. The nurses were all kind & Kiley walked with me to the surgery room to ensure I was ok. Dr Kim has a very calming presence himself & after my experience with him during consultation, I felt I could trust him.
Recovery: the toughest part of recovery has to be when you first wake up from general anesthesia. Of course, everyone's body is different so it'll be a different experience for everyone. I have a tough time & I just wanted to head to my Airbnb to rest and start the process of healing at the comfort of my room. Kylie made sure I received my medicine and even walked me to the pharmacy to retrieve it. It was so late and I hate putting anyone at an inconvenience so I truly appreciated her kindness. She walked me to my taxi & made sure my taxi driver was dropping me off at the correct location. I was quite out of it due to the anesthesia still so I don't remember too much other than that .. I had no pain after surgery. Other than not being able to open my mouth completely nothing was really uncomfortable.
Check ups: nana offered treatments as well for post op care & Kylie made sure I was properly helped even during post op. The deswelling treatments are very relaxing & combined with walking it really helps you to deswell.
Overall I'm sooo happy with my results. I'm only 1 month post op & I'm still swollen (especially in my cheeks), but I can see my face is much smaller than before. Dr Kim is amazing at what he does & if you're nervous at all, it will go away once you meet everyone at Nana. Every single staff member I interacted with was so kind & they treat you so well. I may sound like a broken record, but truly they made me feel so comfortable. It wasn't like any other clinic I consulted with in the past. Kylie, the other consultant (I didn't get her name

) , and Dr. Kim were extremely caring & great at what they do. The consultants here are sooo very sweet. I'm happy with every part of my experience at Nana & I'm so grateful for their service in helping me achieve my goals. I no longer feel insecure about taking photos or looking in the mirror. If I ever decide to get any more procedures done, I will 100% always choose Nana.
Please PM if you'd like to see more B & A photos. I'm not great at editing >.<
the photo with shorter hair is my before. You can see how my cheekbones stuck out quite a lot & the other 2 are taken 3 weeks post op.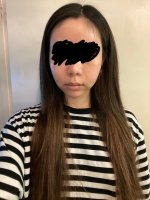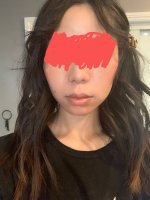 Last edited: