Due to some serious medical problems, it has been a rough few years.

Two years ago, a doctor told me that I wouldn't make it pass another 2 months. We didn't listen to that doctor so we kept consulting more doctors until we found one who didn't promise anything except that he will do what is necessary to give me the best odds. Because of him and a few surgeries later, I'm still here today. I'm not back to 100% yet (more like 70%) and there is no guarantee I'll ever be like I was before; but I'm still here. For that I am deeply grateful for every second of my life.

This year I get to turn 40 and I couldn't be happier! Sure there's more mileage on this body but I get to still be here for my kids and my husband.

I am grateful for everything I have but especially grateful for the chance to live my life with the ones I love.

I've learned that there are no assurances in life. So we must all enjoy whatever time we have.

This lead me back down the road to Chanel. I first purchased Chanel in 2006. The love affair continued into 2009 with Chanel Fine Jewelry. Then I got majorly side-tracked by all things Hermes for a few years. I took time away to have my babies and now that they are older, Mommy gets to go back to wearing her nice purses again.

I remembered that I always wanted a pink Chanel. So my search started. Hubby called around and found a Fuchsia Caviar Boy with LGHW. The pictures the SA texted were beautiful! I was nervous with anticipation! So much so I couldn't sleep until it flew its way to me.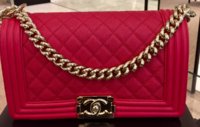 Unfortunately, once I opened the box, my heart fell. It is beautiful but it is not for me. The leather felt papery and harsh, the quilted diamonds were deflated and dimpled. The leather that looked so sparkly in pictures, looked dull and washed out in person.

I completely understand those who don't see what I see and love and search for this Boy but for me, It did not measure up to my 2006 Jumbo Single Classic Flap. The deal breaker was the fabric lining. Back it goes to the store to find a home with someone who will fall madly in love with it.

So Mama got serious. No more calling around and purchasing sight unseen. Time to get down to business and drag my little ones to the nearest Boutique to see these purses in person.

But.... on the way to Chanel, I stumbled upon Celine. Again. Whoops! Stingray Nano had me at, "Hey you! Over here!!!"

So I brought this baby home: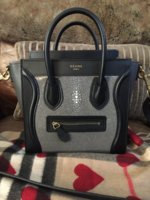 Celine Nano in Smoke Shagreen.
I was beyond obsessed. It is a work of art and I felt lucky to call it mine. Exotic skins make me weak in the knees!

But still my heart ached for a pink Chanel. Just one I told myself. Maybe a WOC so I can travel with it and it'll be my pink baby and see the world with me and help me check off my bucket list!

So I asked my Hubby to search for me and he found this and this: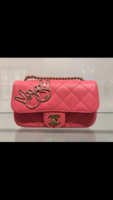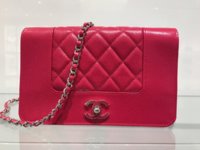 Nope. No angels singing. Just liked but not loved.

Then one day, something amazing happened! I randomly called a store that just got something special in. It is Pink! It is cute! It will travel with me and be my pink Baby.

Welcome home little girl: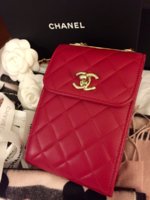 I have no idea what it is called. I know it is from the Trendy CC line and it is a cross body that can hold your phone and credit cards (comes with 4 slots!). The tag just says "O Miscellaneous Dark Pink". It is Fuchsia Lambskin and it is lovely!



A happy ending right? But how happy can she be if I didn't bring her sister home too? Introducing my Pink Chevron Smooth Calfskin 2.55 Reissue with Aged Hardware! In person, she is a medium almost coral pink.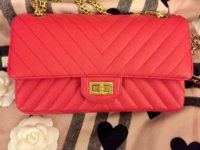 There is something else! She hides a strong bold personality under that flap.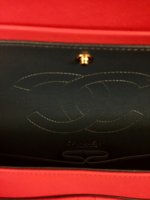 In real life it is a beautiful dark almost navy blue. And the frosting on the cake! My baby was made in France!




I know, it doesn't matter to most people but for me, to have my dream bag be made in the country where she was designed and founded is AWESOME. Especially for her being a reissue! Love love love love a million times.

This journey has taught me that as long as I continue to fight for my life no matter how hard the days can sometimes be, to be here for my kids and my husband, my reward is being able to love, live, and to celebrate all that is beautiful in this world. And lucky me tonight everything is coming up Chanel Pink!

Thank you for following my long story and letting me share how my Pink Chanel Dreams came true.



Wishing all my TPF friends out there a wonderful long life full of lambskin and caviar treasures.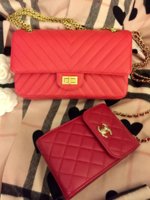 And last but not least, thank you for also helping me celebrate the big 4-0, an age I was too scared to hope for but is now finally here.
Life truly is beautiful.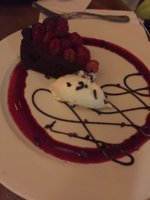 Last edited: