After Ceejay's pics of the croc embossed I HAD to go and check these bags out. It was instant love, I had to bring her home and I chose the burgundy. It's a wine red, with a purple/blue undertone, definitely no brown or rust tones.
It's a stunning bag, and it will definitely get softer over time.
It's been a while since Bal got me excited again. It's definitely the special ed like metallic edge and now the croc embossed that look, at least for me, so much nicer than the classic lamb ATM.
Warning! Pic overload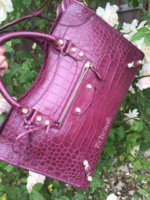 Last edited: