Hello, everyone. I'll start this review by saying I've always been deeply unhappy with my face. I've always had a long face, large jaw, and asymmetrical lips. This only seemed to get worse in my early 20s, as soft tissue grew more around my chin, and my jaw was developing more. It was no longer just thin and long, but now thick. I remember when I first saw the results of double jaw surgery from Korea. It was kind of magical to me - a hope that I could 'fix' my face in such an easy procedure. I was so enamored by the idea, and I placed such high hopes upon it, that I've now had to deal with much depression and pain. I understand that this may seem melodramatic, but when you want something for so long, it's incredibly painful to not have this happen. I told myself I would be prepared in case I wasn't happy - well I didn't prepare completely it seems. When I would edit photos of myself, dreaming of how I wanted my jaw to look, I began making it less edited - thinking that this was my way of being 'realistic'. I ignored people mentioning sagging because I thought, stupidly, that I would be different or that even with the sagging I would be happier than I was before. This is not the case I'm afraid.
I had surgery 8 months ago in early November. This is me before: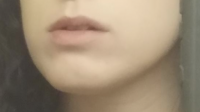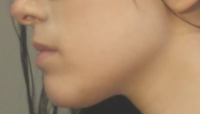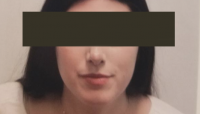 As you can see, my chin was somewhat large, and my lips had some asymmetry. Looking back now, I don't even see it as bad really. It brings me to tears how much I hated my face before, and now I have irrevocably changed it. There was nothing wrong with me, and my bite was just fine. At the end of my review I will post different things I would have done, so that if someone who is pre-surgery can read this and reconsider or evaluate their options.
I won't say much about my trip or how Korea was - the city was beautiful. Meeting Dr. Lee, he was kind albeit rushed. He took time to explain the procedures to me as well as answer questions. He noted that he didn't think I needed the surgery, but if I wanted to have a less large jaw, this would be my option. I wish instead I had pressed him why I didn't need it. I wish I had pressed him on the problems or complications after surgery. If you are still considering this, please do this. Understand that the good results you see are only temporary as well - eventually the soft tissue will catch up and they too will need some sort of lifting procedure such as SMAS, if that will even fully restore what has been done. I also realize now that my cheeks were far too chubby for this to ever look good.
Anyway, here are some pics of me after the surgery (not going to include immediate post due to blood and grossness):
Me about five days after my surgery. I was both terrified and ecstatic. I had actually gone through with the surgery.
Me a couple weeks post surgery. I had some worries about my sagging and if my new chin and jaw fit my face well.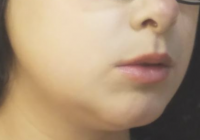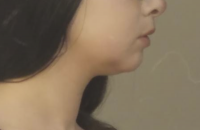 Some of you may be familiar with my thread where I asked about swelling 2 months post op. These were taken a little before that time. Very swelled up still. My lips were corrected with overlining, but you can already see that my philtrum is quite projected.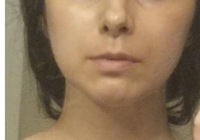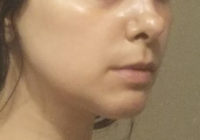 These were taken a couple of days ago. As bad as they are in these shots, it's worse in person as the light catches the sagging of my cheeks and jowls. As you can see from the photo straight on, there is a considerable dent missing in the jawline of my right side. I was hoping that with time, swelling would absolve this. It did not. I was unhappy with my appearance before, but at least I looked my age. From my left side, my cheek is less saggy as there is more jaw for the soft tissue to sit on.
Will continue this in the next post, as there's a couple more pictures I would like to add and have met the limit for this one.