One of my fave bloggers picked up one of these, I was wondering what you girls thought of it ?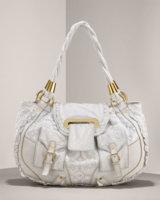 http://www.bergdorfgoodman.com/store/catalog/prod.jhtml?itemId=prod9040076&parentId=cat203408&masterId=cat20053&index=2&cmCat=cat000000cat000002cat000008cat30005cat20053cat203408
available for only 2375$

It looks quite extravagant, kind of like you see someone carrying it and you know they have ridiculous amounts of disposable income. But with that being said, it kind of also looks like something that Victoria Gotti would carry.