I've always been a fan of classic flaps only until lately I got a cch and even grew to like the gabby.. boy has always been on the back of my mind but am I too late to hop on??
I saw some really pretty colours the boy Came in - Tiffany blue and also mint green is what I'm going for - these colours seem to look weird on a gab??
What do you gals think??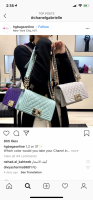 Last edited: