Hi guys
I purchased my first ever Dior bag 3 weeks ago at Heathrow. It was a Diorama WOC, and I absolutely love both the colour and the leather.
However, after using it for 3 times now, I've spotted an issue with the bag. The zip pull-tab falls off the bag every single time I use it. The first two times I pushed it back in myself, but it just falls out again. Please see pic.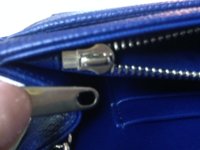 My question is this: Can I / should I take this back to a Dior boutique for them to fix? If I do, how long do they take on repairs generally and will there be a charge?
I ask because colleagues have suggested that I just take it to a local cobbler and get them to pinch in the zip slider to hold the pull tab. But concerned if this might scratch the metal and/or void any warranty on the bag.