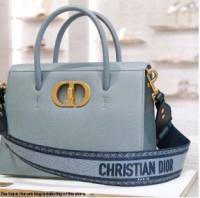 Dior alluded to the new St Honoré tote in a Facebook post here:
And then some quick googling sent me to this WWD article:
https://www.pressreader.com/usa/wwd-digital-daily/20200706/281487868635430
It seems like everyone is releasing tote bags again... are big tote bags becoming fashionable again? It seems like such a jump from nano/micro bags to large tote bags.
Also this bag is giving me serious Prada Galleria Saffiano Double Zip tote vibes.