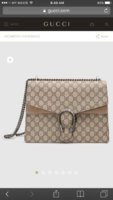 Please help me to decide which one of these two I shall pick. I hv not been buying any gucci bags for yrs, always LV or Chanel girl. But lately I keep on looking at these two bags. I tried both at store. Love the leather very much (understated) but can feel the weight after holding for 5 min. Love the Gg supreme canvas bag as its lighter but not too crazy over the print.
In short, love the overall Dionysus structure design and the clasp very much.
Would like to ask member that has the Dionysus medium in leather, is it really heavy after carrying for half a day?
Which one do u prefer?
Thanks in advance for the advices. [emoji4]