Hello! I bought my first Chanel from a Japanese seller after weeks of research. I received it today and sent it to Lollipuff for authentication. It came back as authentic almost right away. They also estimated that it was made in the late 80s (the sticker has come off and the authenticity card is lost).
I went on to do some cleaning, conditioning and stuffing (hopefully it will reshape a little in a few weeks). There are no major blemishes. There are some light scratches, dents from the chain on the inside flap and two tiny pen mark stains on the burgundy leather. Corners are good. No odd smell. First one is before and second is after.
My partner who knows nothing about luxury goods thinks US$1700 is way too much on a handbag (my money my rules lol). I'm trying to explain to him it's about as cheap as it can go for a pre-loved Chanel. Please tell me if I've done ok?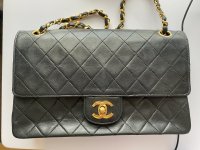 Last edited: