Hi there!
SO DH was in Paris and stopped by CDG boutique on his way back to pick a little something. I originally wanted a CF in any color/pattern. But there weren't any, they only had CF in exotics so I asked for a regular w.o.c, which was not available either (I think someone mentioned how hard it was to find classics at airport boutiques, guess they were right, they mostly have seasonals).
SO I was like, whatever just grab something - I was like a junkie who need a fix- lol.
Long story short, I had to chose between these two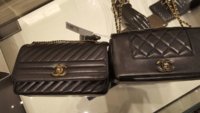 and it was big NO, nay, non merci. Don't like these at all.
But now I'm having second thoughts , did I make a good decision? Do you like these bags or did I just pass on a "must have" ?