Dec 27, 2009
20,044
5,503
I don't usually share new purchases and certainly don't try to take up forum real estate by posting threads with new purchases, but I did want to share as there aren't a ton of threads showcasing this specific bracelet. My understanding is, also, that this is a relatively difficult piece to acquire that VCA is considering to be limited.
So when I randomly text my SA yesterday and prefaced my request with the fact that he'd likely laugh at me, his response was, "OMG now this is freaky!"
I had asked if it was outlandish to request a Lucky Alhambra bracelet; he told me they had just received ONE that previous day and that they just simply never receive them. I had made the overnight shipping cutoff time by twenty minutes, and today I am so happy to share with you ladies.
It's difficult I'm finding to properly photograph this bracelet when I'm the wrist but I hope you all enjoy these photos.

View attachment 4777360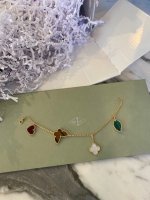 Last edited: