Hi everyone, sorry I know this question (or at least a variation of it) has been asked multiple times in the past, but I'm hoping TPFers can come to the rescue of my dilemma....my husband is going crazy over my indecisiveness

So I'm in Paris now, and will be for 2 more days before heading to London for several more days, and then heading back home to the US. I immediately went to Rue Cambon when I arrived on the first day. I was on a mission to find the Reissue 225 (small) chevron in beige, exactly like the one melinmelbourne had posted on YouTube and mentioned by several others on this forum. What can I say? It sure is a beauty!! Here is a photo again for reference (courtesy of melinmelbourne...I just took a screenshot of her video)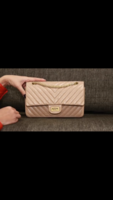 I suspected that given this is from a previous collection (I think pre-fall 2016?), the chances would be slim...and I was right. The only chevron reissues left in the store were navy with GHW in small, burgundy with GHW in medium, and black with SHW in both small and medium. I already have a black caviar WOC with SHW and a black caviar old medium boy with ruthenium, so I was definitely in the market for some other neutral color that can go well with all colors of clothing, as well as something versatile for casual wear with jeans, but also appropriate for fancier events like weddings. Long story short, I ended up purchasing the burgundy. Here's a couple of photos including a mod shot: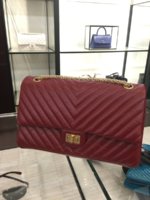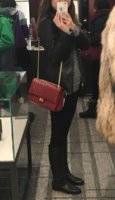 When I asked the SA for the beige small, she immediately told me it is no longer available, and that no stores in Paris would have it. She was a very nice and patient SA, and I really enjoyed working with her, so I don't want to doubt her, but she also answered right away without checking inventory in the system (I hear they can check inventory for all other stores in the same country?). But this is my first time purchasing at Chanel in Paris, so I don't want to assume anything. I do have a few questions though:
1) is it safe to assume that the SA was right about it being sold out all over, strictly because the color and combo was from a previous collection? Or do you think she said it so I would give up looking for it and choose something else in the store instead?
2) what are your thoughts on this bag? I never had my heart set out for a red bag, but it is growing on me. I have to say that the color and GHW go well together. It is in a bigger size than I originally wanted though. What do you think of the size for my 5'4" height? Is it too big for formal events? And I've never had a red bag before either....do you think this particular combo is versatile enough to work with all colors (clothing) AND occasions??
3) Or do I dare give up the bag now (it is 14 day return policy, right??), and cross my fingers that I may find the small chevron beige when I go to London??? What would be my chances there?
TIA for your honest advice and thoughts!!!