I chanced upon this bag whilst in Europe and decided in under 10 mins to get it. I was always keen on a Kelly but they didn't have any in the shop.
I'm not too familiar with H but I think this is a Lindy 26 in Clemence leather (?) rouge grenat...
It's still sitting nicely in the box at home so the only picture is this from the shop.
Should I keep this and get a Kelly in future? Or should I keep. I love the colour and this looks like a nice casual bag that goes well with jeans though too small for my ipad. Would/ could you wear it into the office?
Thoughts pls..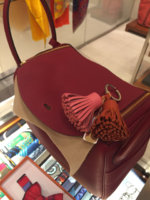 Last edited: