Well, she is small but boy, buying a Tiffany diamond offsets the size...super white & sparkly looking!
I got a great deal on it used as the clasp was broken & chain tarnished. My local T&Co sent it off to NYC for free to get fixed and shined up! She looks like new!!
I actually was a little sheepish about bringing it in, worried they'd sort of shun me for buying it used but they treated me as if I had bought it from their store that day. They also offered to clean all the jewelery I had on (Tiffany earrings and stacked bracelets) for free. I had wondered if they really were cleaning for free now and my store absolutely did.
I will say, I did buy a little something while I was there so it did work out nicely for them as well. Hehe Reveal on that soon...
Also, when I went back to pick up my necklace after it had been fixed, I wore completely different T&Co jewelry and she offered to clean those too. She also checked my gemstones on my CBTY bracelet and my Sparkler necklace. I should have been having it checked yearly over the years and never did... So the whole experience made me want to continue to go back and take care of my jewelry better (I do use their cleaner at home but getting it steamed is even better).
Such a fun everyday piece! I love that I can wear it w/ anything...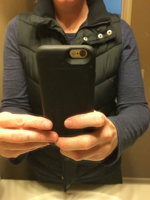 Last edited: