My daughter bought these for me at the David Yurman store in Troy, MI. The first picture is from the website.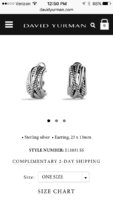 This photo is the actual earrings that she received. In the website photo, there appear to be two different earrings so that they are symmetrical when you wear them. My earrings are both the same, so the crossover is the same on both sides, not curving toward you face, if that makes sense.
My questions...does this bother anyone else? It was the first thing that I noticed when I opened the box. Second, they told her she only had 7 days to return after Christmas. On the website it says returns must be made to the store where the purchase was made. We are in Kentucky, the store where purchase was made is 6 hours away. Closest DY store is 3.5 hours away. Has anyone ever returned to a different store or by mail?