I should preface this by saying I am probably unreasonably OCD about this kind of stuff.
My Siena MM is a couple of months old. The tabs on the side where the strap connects are super creased (see pic). I don't know why. I imagine they catch on clothing and I don't notice it.
Is there anything that can be done to soften this look? Does leather conditioner work on this kind of leather? I use Cadillac conditioner on my older vachetta and it all looks really nice and smooth. Not sure if anything can be done here because of the way the leather is coated/treated.
I just don't like how this makes a nearly new bag look worn out.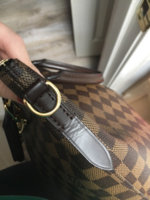 o