Hi guys, I posted this in the chit chat thread, but now my account is cleared for new thread creation!
I received a new Reissue 227 for Christmas, but the bottom on the sides are creased / dented pretty badly. I know the Reissues are folded flat and are supposed to have creases, but doesn't this not look right? This was purchased straight from a Chanel boutique on the 15th.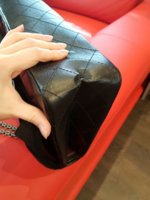 I am kind of turned of by this, I can't believe the SA would sell this item in this condition (to my unsuspecting boyfriend who, bless his heart, doesn't know what to check for and just purchased it). My receipt says no refunds, but what are the chances I could possibly request one? This is from the boutique in Toronto.
Any opinion would be greatly appreciated, thank you!