Not your average MOM
O.G.
Hello! New on Prada site and need some help to clear the confusion I have.
I'm interested in this bag (pic attached) and try to look for a modelling pic of it but during my research, I found many pics of the double bag but not this one. I also see a lot of local ladies here in Dubai sporting the double bags but not this ones. Am I missing something?

Is this not part of Saffiano? Some info would be appreciated - thoughts, experience and of course modelling pics!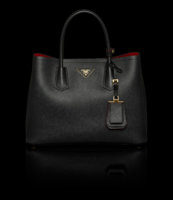 THANKS IN ADVANCE, LADIES!