I was at Chanel earlier this week to buy a mini. I was after something in caviar but they didn't have anything. I specified I didn't want lambskin as it's too delicate for daily use. My SA produced this little beauty and told me it was in calfskin.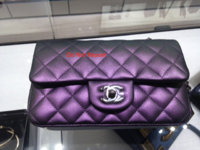 I'm ok with calfskin so I bought it. But when I took it home and compared it to my other lambskin bag, it felt just as soft and delicate. I don't have any calfskin bags so not sure what they should feel like.
But I also saw this listed on the Chanel website:
http://www.chanel.com/en_GB/fashion...c-lambskin.17S.A01112Y615390B395.sto.new.html
It's a larger version but definitely lambskin. Now I'm confused what material my bag is. Does anyone know?