This is why Apple Garde is a NECESSITY for vachetta, suede and any natural or porous leather. Meet my beautiful preloved MC Alma. I've been waiting almost a decade to find this bag for a steal. My MC speedy was my ultimate holy grail but this bag has been longed for almost as much and I got it for $400 earlier this week and with IMO the perfect patina.
So tonight, I proudly toted her out with friends and she got complimented left and right. I was so proud! But I was almost physically ill after I tripped and my late night iced coffee splashed down the front of my new beauty . On the right side it ran from above the zipper pocket VVN trim all the way down to the bottom of the bag over the studded vachetta base.
Thanks to the previous owner and myself using Apple Garde, I wiped it off without a trace. Apple not only makes a bag patina more slowly, but much more evenly/uniformly with less handle darkening; it makes the patina process much prettier but it also saves the horribly difficult to care for VVN leather from liquids! It's saved my Artsy, which got caught in a thunderstorm and poured on for at least 30 seconds.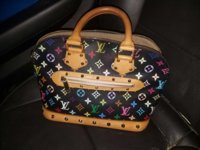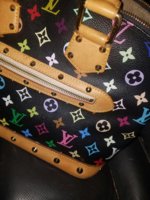 Get Apple Garde and follow the directions. Use it every few months if you carry the bag regularly. Apple will save you a LOT of misery and potentially money and help hold your bag's value, potentially doubling its visually pleasing lifespan!

I treat and restore bags regularly and I wanted to share how important this treasure of a product is. It's the only spray repellant/protectant i have found that won't darken Virgin Vachetta. It's less than ten dollars on
amazon
.
Photos of the "downpoured upon nearly giving me an apoplexy/seizure/meltdown" 5 year old Artsy in 2nd post. Apple has kept it to almost no patina and nearly flawless.
HTH!

Last edited: