Hello Coach Lovers!
I am starting this thread to help out my Coach Compadres determine the many colors of Coach.
Please feel free to add your own pics to help us all out even more!
I have numerous bags in the same "shade" and wanted to share my comparisons with you all in hopes that you will return the favor!

I often find myself searching for comparison pics and thought maybe we could
put them all into one thread. If this has been done already, please forgive me and move the thread to where it is appropriate.
I have finished 2 colors that I have so far and will add more when they are complete.
I have also included my Michael Kors bags in the same shade because I know there are few MK Lovers here as well!
I will start with the PINK family.
Left to Right from the top:
(L) MK ZINNIA (R) MK ZINNIA
(L) Coach FUSCHIA (C) Coach HOT PINK (R) Coach MAGENTA
*With Flash
*Without Flash
Coach Hangtags
(L) FUSCHIA (C) HOT PINK (R) MAGENTA
*With Flash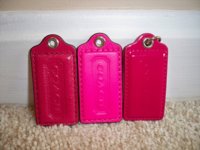 *Without Flash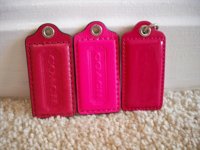 Coach Only
*Without Flash
(L) FUSCHIA (C) HOT PINK (R) MAGENTA