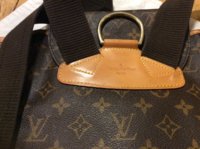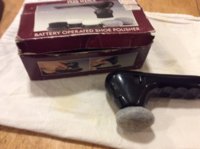 Because I have nothing better to do at 12:30 in the middle of the night while I wait for a phone call. I decided to take my cleaning bucket out and clean some of my bags. A few things I feel work well that I really don't ever remember other people posting about.
I like to use Apple leather conditioner on my vachetta part and then after I wipe it down and let it dry I go over all the leather pieces with a wool fabric feel brush battery operated brush from some old shoe polish cleaning kit my husband bought from a garage sale ages ago. Wow does my vachetta shine. Then I spray it with WIlson TLC leather and suede protector. Along with this I clean out the piping area and around the leather where it meets the monogram part with a toothbrush and this does make a difference. Leather cleaner and I guess dirt can get trapped in between the piping area.
This is a picture of my GM backpack. I don't even know how's old it is but I think it looks pretty well taken care of for the age. And the shine.