I'm building a stack and am deciding which to get first: classic love bracelet in yellow gold or the regular size JUC with diamonds in yellow gold.

I hesitate on the love bracelet because size 16 is loose and 15 is too tight. The cuff is a better fit but I like the idea of the full bracelet. The cuff is more practical for my lifestyle but I've always wanted the classic bracelet. Another consideration is that I swim every day and am concerned about how a yellow gold bracelet that shouldn't be removed will hold up in chlorine and saline ~7 hours a week.
The JUC fits well but when I tried it on, the plain one didn't make me light up. The one with diamonds makes me feel like, let's not even play around lol. I'm loving this stack which belongs to another TPF member so I hope it's ok to post it. The picture of the 2 love cuffs is mine.
I'd love to hear input from those who have these pieces. Thanks!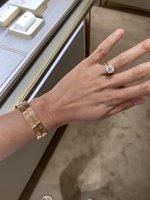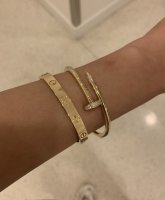 Last edited: