This has to be my single largest reveal that I have/will ever do! I never imagined just how much I would love all the items in the Cruise Collection! Honestly, this whole year, Chanel has just kept throwing amazing collections at us.
I decided that after I picked up 5 items, that I probably wasn't done so this reveal has been almost two months in the making!! I counted the items that I had picked up over that time and OMG.... 11....

and I'm still waiting for my last item to come in......
As the items were picked up over 2 months, I didn't keep the items in the packaging. I'm far too impatient to not use them

.
Sneak peak of what is to come: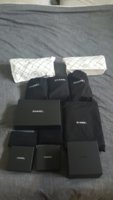 Is anyone around for a reveal??