Oh my god I got a Chloe bag 2 hours ago! [emoji1] I just had my manicure done and was walking around outside when I saw this beauty (sold out in Chloe's website in this colour) and took her home with me!!! I am in love!
Thank you for letting me share this splurge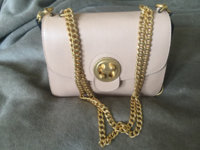 Sorry for the outfit that completely doesn't match the bag but I had to share right away
Any ladies out there that also have this baby?
I think Chloe is so lovely because they make such ethereal sweet and chic bags, but I never got one because many of them are so popular and I don't really like buying bags that are popular and so expensive - I am always afraid I am getting them because of that and then get tired of them. This one I haven't seen a whole lot of people with it so I know I love her for what it is!