Hi guys Need help.
Is the Chloe aby chain durable considering the attachment of the strap? ( see photo)
Is it heavy?
Why are there no youtube reviews?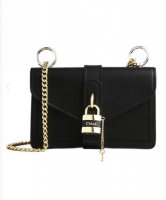 I have been checking the Aby Chain Bag in Shiny Goatskin for months now.
I want a bag that can be worn 3 ways and can be matched with casual or formal clothes.
I am choosing between this and YSL quilted small Lou lou shoulder bag but it is more expensive my cousins just recently bought ysl bags.