Thought some of you might enjoy this story. I love a good rescue dog story. The Northern California Chihuahua races (the nationals are later this year) took place a couple weeks ago. They races are for fun, no one is racing the dogs in any real way. A cute rescue dog named Chloe' came in second. Here's the local news writeup and Chloe's pic with her Paddy key!
In race after race, people were jumping up and down, screaming at the top of their lungs and waving all kinds of treats to try to get their "babies" to cross the finish line first. It was the third annual competition to find the "Fastest Chihuahua in America," sponsored by Petco, and it was a doozy.
Three-year-old Clarabelle of Boulder Creek won first place and will compete for the national title in San Diego in September.
And Chloe', a rescued Chihuahua, won second place. But you need to know right away that Chloe' is not just another rescue animal - as wonderful as they are. Chloe' is now a designer rescue dog.
"I named her Chloe' - with an apostrophe please - because I love the Italian bags created by the designer named Chloe," says Katriana Soledadof Palo Alto, who shares the dog with her husband, Mel."The key on Chloe's collar (marked with Chloe) is the key to the padlock on my Chloe Paddington Bag. Chloe' has the key to my designer bag!"
Chloe' also has the key to Katrina's and Mel's hearts.
"We felt that our dream pup was really impossible until the day we saw Chloe' in the pound," Katrina says. "We couldn't believe our eyes. She was the perfect match to our dream pooch. She was sooooooo cute. We saw a lot of small dogs but knew we had to adopt Chloe'. She was so friendly."
Katrina and Mel only found out about the Chihuahua races two days before the event so they had no time to do any special training. But the couple and Chloe' hike or walk two to three miles a day, sometimes longer.
"But her most fave thing is sprinting. I mean she can sprint 150 feet in a flash," Katrina says.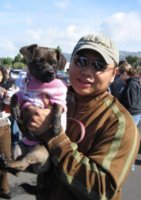 Pictured is Chloe with her dad Mel Soledad at the chihuahua races.